Vita
Zap – quick as lightning, and just like that. At a New Year's reception hosted by Prime Minister Kurt Beck, Christine Rauh suddenly grabbed the microphone from the moderator and cheerfully addressed the audience herself. The audience was tickled pink, and the moderator – temporarily robbed of his duties – nearly fell over laughing.
That's not really 'normal' for a cellist – but then, that's typical of Christine Rauh. She enjoys loosening up rigid rituals and livening up the classical concert world with her irresistible, infectious charm. The young cellist positively bubbles over with the urge to communicate – and that's reflected in her performances which she's imbued with a fresh new approach.
"I want music to be more like a game again, and not so much a strict lecture," says Christine. "I want to create a shared experience between my listeners and me – they're allowed to show their emotions – and I believe they should, too!" For instance, when she plays the Sonata by Alfred Schnittke. "In the second movement, the tension keeps building until it climaxes in a loud cluster. Sometimes there's an actual audible gasp that goes through the audience. It shows that they're really moved by the music – and that's how it's supposed to be."
Composed in 1978, Alfred Schnittke's sonata is one of many examples of Christine's wide range of styles. Her deep-seated desire to dust off the staid and formal constraints of the classical concert is clearly reflected in her choice of repertoire: apart from the classical repertoire with numerous premieres of contemporary works, she also loves playing tangos, and plays her own arrangements of songs by Udo Lindenberg and Daft Punk. Collaboration with beat boxers and jazz musicians is a natural part of the lively young cellist's work too. She's not afraid of anything. "I don't think it makes any difference whether the music is labeled classical, tango or jazz. The only thing that matters is that it's good music – for me and for my audience!"
Christine Rauh combines brilliant technique with musical depth and a uniquely exciting stage presence. Her busy concert schedule has already seen her perform on renowned stages and at important festivals in Europe and Asia. These include the Philharmonie and the Concert House in Berlin, the Laeiszhalle in Hamburg, Alte Oper in Frankfurt, the Schwetzinger festival concerts, the Euro Nippon and the Schleswig Holstein Music Festival, as well as the Festival in Kronberg. Apart from broadcast recordings for radio stations such as Deutschlandradio Kultur, SWR, SR or the WDR, Christine Rauh played on the Naxos CD by classical-jazz composer Nikolai Kapustin.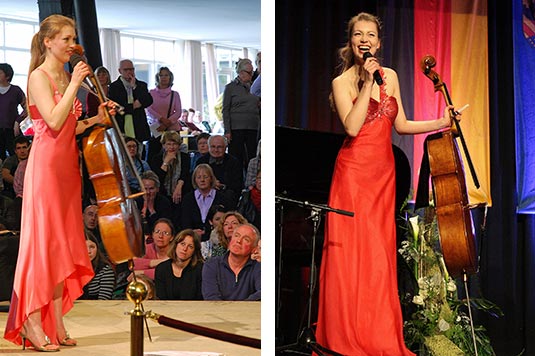 Christine Rauh started her career by winning the most renowned competition in Asia, the International Isang Yun competition. Shortly afterwards, she was nominated by the German Federal government as one of the '100 Women of Tomorrow'. No question about it, the 'Berliner by choice' (she's lived there for many years) with an English background is one of the next generation's outstanding cellists.
Wherever Christine Rauh appears she fascinates audiences with her charismatic, captivating personality and her stirring interpretations. Even in virtuoso passages, her slender arms and hands glide over the strings of the instrument, infusing her playing with a balletic elegance. Which is not surprising, as Christine studied ballet for five years, and it has had a lasting influence on her body language. She is obviously at home on stage; from an early age she loved dressing up and entertaining people with little dramatic sketches, giving her the opportunity to express her many and varied talents. One of these was music. However, she had to overcome one serious obstacle: she suffered from very weak eyesight, which prevented her from learning to read music. "Because I couldn't see well, I made a virtue out of necessity and acted out my passion for creative experimentation. I picked everything up by ear – and even today, I prefer to play without music."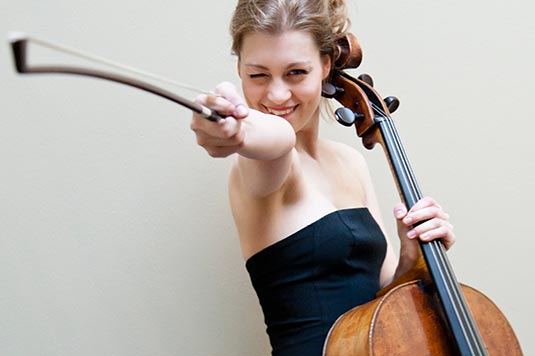 And this is how she began to play the cello – at first she improvised on the instrument, then she decided to take classical music lessons. These quickly put her on the path to success: her studies in Frankfurt, Berlin and Paris under Jens-Peter Maintz and Gerhard Mantel. Her encounter with the legendary Mstislav Rostropovich gave her the chance to absorb other influences.
Christine Rauh plays a replica of the cello made by Giovanni Battista Rogeri in 1671. Built in Berlin by Ragnar Hayn, the instrument combines the typical warmth of Rogeri's Italian original with tremendous clarity of sound. She teases the entire sound spectrum of the cello out of this instrument, sometimes even holding it as one would a guitar. She happily and playfully breaks the barriers of the accepted norms, even in her performance style. In a verbal concert format, she shares her infectious enthusiasm with her audiences, sprinkling the programme with little anecdotes and stories. Christine prefers to moderate these concerts herself – so she never has to grab the microphone out of someone else's hand again!