Stennebrüggen Prize for cellist Christine Rauh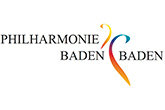 The Baden-Baden Philharmonic awarded cellist Christine Rauh this years Stennebrüggen Prize.
Watch and listen Christine Rauh and Baden-Baden Philharmonic performing Dvoraks Cello Concerto. "It was wonderful playing the Dvorak Cello Concerto. I believe it is the concerto I have most frequently performed so far; it's one of my absolute favourites, incredibly intense and gives me the creeps!" Christine Rauh points out.
« back