Radio and TV production at Kaiserslautern SWR Studio
3 days of intensive work! Studio production, hot-blooded music and a
TV portrait about Christine Rauh.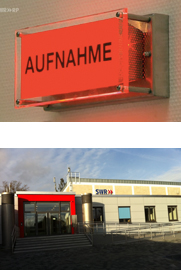 It's December and bitterly cold. In freezing temperatures my 340 year old, Italian Giovanni Battista Rogeri cello particularly wants to be taken care of!
Here is my daily checklist for Mr. Rogeri:
– definitely avoid air conditioners
– check humidity regularly and take a shower in your hotel room in case of need
– take a taxi to the studio 'cause Rogeri doesn't fancy winter walks!
My daily morning ceremony: a steaming cup of cocoa. What I don't suspect: my freshly washed jeans make a very audible and undesirable grating noise! It's the only pair of trousers in my suitcase. Necessity is the mother of invention: I race back to my hotel where I fetch some old cloth that I use to blanket my knees. No rasping noises during my recording any more!
Tip of the day: for any cellist starting a recording soon, don't do any washing!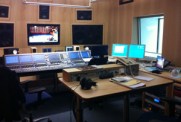 I will include some samples of my recording very soon. It's a diversified programme: French, Czech, Spanish … and hot-blooded. So stay tuned!
!! SWR TV portrait with Christine Rauh on
17 December 2011 at 7:15 p.m. !!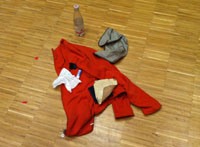 Things I would not want to miss during recordings:
rosin, lip balm, water, mute, cloth and my sweater
« back