New Album available now – Buy Christine's CD on Amazon and iTunes
Buy album on Amazon HERE.
Inspired by her love for classic-jazz fusion Christine releases her new album 'Nikolai Kapustin – Works for Cello'.
This is a programme of works by Nikolai Kapustin as well as Christine's own classic and jazz arrangements transcribed for cello with vibraphone accompaniment.
"If one wanted to describe the essence of this recording of Nikolai Kapustin's works for cello, the first words to spring to mind would be groove, swing, wit and charm. There are few CDs that present such an exciting and entertaining mix of classical music and jazz as this new release.
This music combines the style and rhythmic vitality of jazz with classical forms – something that seems to strike a real chord with audiences and musicians who are interested in experiencing new sounds beyond the classical repertoire.
Young cellist Christine Rauh maintained close contact with the composer Nikolai Kapustin throughout the recording process, and she performs here with an outstanding collection of musicians, from both classical and jazz backgrounds.
Nikolai Kapustin's music is a treasure trove waiting to be explored by all those who love classic-jazz fusion."
Christine's musical collaborators are saxophonist Peter Lehel, pianist Benyamin Nuss, vibraphonist Ni Fan and the German Radio Philharmonic Orchestra Saarbrücken Kaiserslautern conducted by Nicholas Collon.
Most of the tracks on this release are world premiere recordings.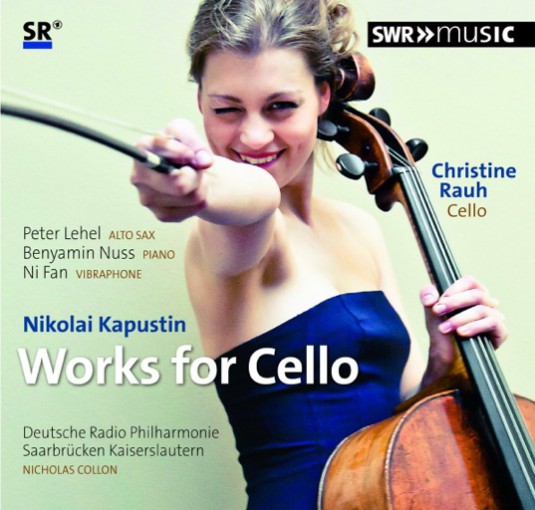 Track list:
Duet for Cello and Alto Saxophone op. 99
1. Allegretto (3:21)
2. Grave (4:38)
3. Sonatina: Antimato (3:53)
Sonata for Cello and Piano No. 2 op. 84
4. Allegro non troppo (8:41)
5. Intermezzo. Comodo (6:07)
6. Allegro assai (7:06)
7. Nearly Waltz for Cello and Piano op. 98 (2:49)
8. Elegie for Cello and Piano op. 96 (5:34)
9. Burlesque for Cello and Piano op. 97 (3:30)
From Concert Etudes op. 40
10. Toccatina (arr. for Cello and Vibraphone by Christine Rauh) (2:56)
11. Raillery (arr. for Cello and Vibraphone by Christine Rauh) (2:55)
Concerto for Cello and Strings No. 2 op. 103
12. Allegretto (9:46)
13. Lento (8:20)
14. Allegro (6:14)
Benjamin Nuss | Christine Rauh
15. Hommage à Kapustin for Cello and Piano (2:05)
Total playing time: 78:26

« back